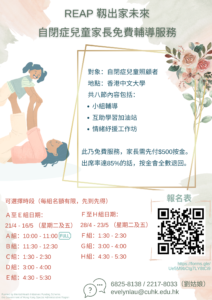 Good news! Team RABI is expanding!
Our RABI family of tutors and support staff are known for teaching kids social skills. What's new this time round?
We're taking care of you, parents!
We're launching a new program called REAP (Resilience Education for Parents of Autistic children)! Our new team members are social workers who will show carers like you techniques in resilience and handling pressure.
All sessions for this season of REAP
Groups A - E: 21/4, 25/4, 28/4, 2/5, 5/5, 9/5, 12/5, 16/5
Group A: 10:00am – 11:00am (full)
Group B: 11:30am – 12:30pm
Group C: 1:30pm – 2:30pm (full)
Group D: 3:00pm – 4:00pm
Group E: 4:30pm – 5:30pm
Groups F - H: 28/4, 2/5, 5/5, 9/5, 12/5, 16/5, 19/5, 23/5
Group F: 1:30pm – 2:30pm
Group G: 3:00pm – 4:00pm
Group H: 4:30pm – 5:30pm
Our 8-session service consists of:
(1) 4 group counseling sessions
(2) 3 mutual support sessions, where carers learn from and encourage one another
(3) 1 emotional release workshop session
Each session take about 1 hour and will be held at the Chinese University of Hong Kong.
Sign up here: https://forms.gle/wpjNcLgoMVimPCZ2A
We'll confirm with parents/carers within a week of enrolment.
This service is essentially free. To ensure 85% attendance, we require a refundable deposit of $500, which will be refunded in full to participants who attend at least 7 out of 8 sessions.
For enquires about REAP, call 2217-8033 or WhatsApp 6825-8138 (Miss Lau).