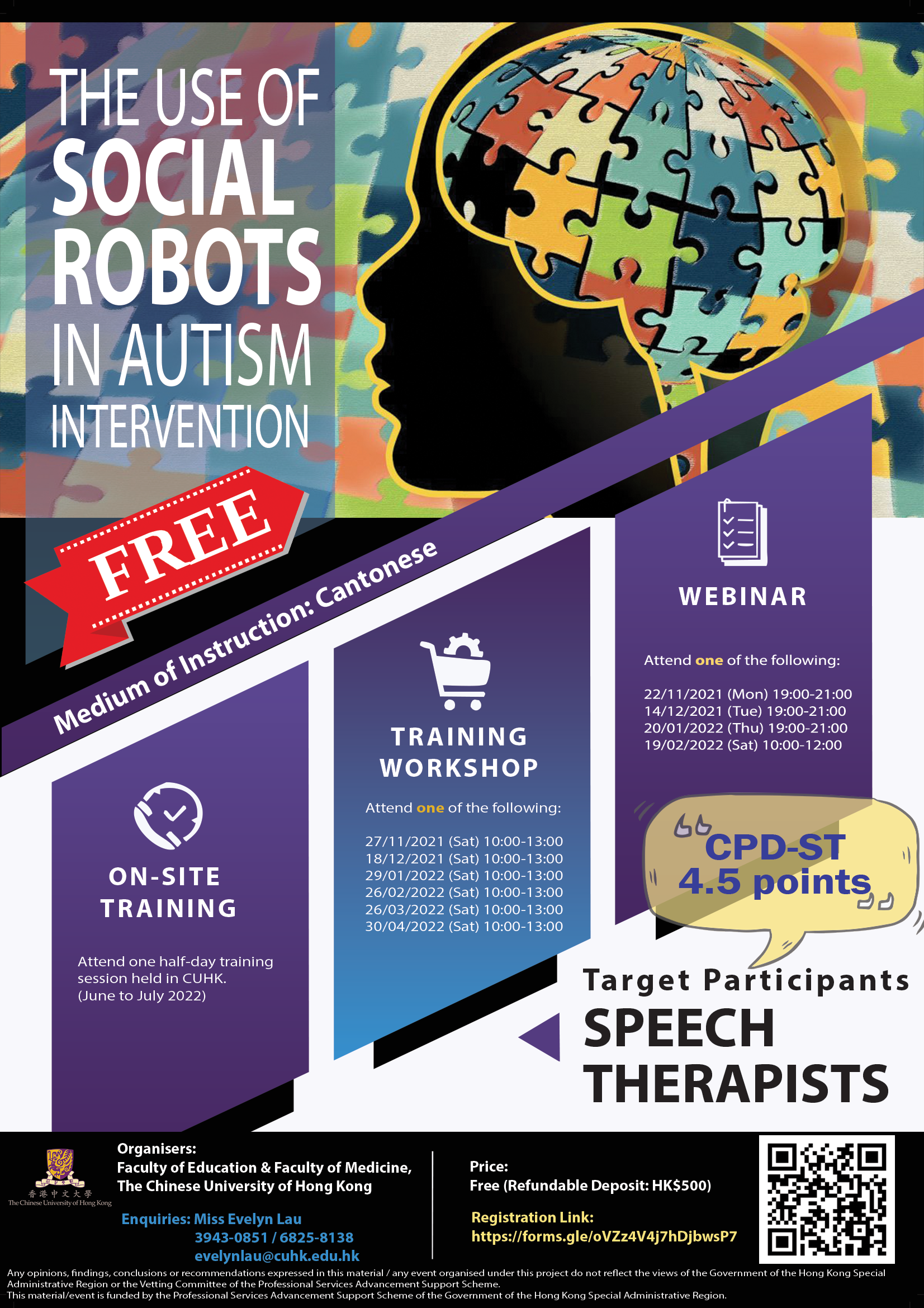 The Speech Therapy Department under The Department of Otorhinolaryngology-Head and Neck Surgery, Faculty of Medicine and CUHK College of Education will hold an [Autism Intervention: Alternative Treatment with Social Robot] on August 28. Speakers include Professor So Wing Chee, Professor Lee Yuet Sheung, Professor John-John Cabibihan and the Rotary Club of HK Island West Hong Chi Morninghope School. They will explain the communication barriers of children with autism and share the application of social robots. The details of the activities are as follows:
Date: [Webinar (attend only 1 session)] Nov 22, Dec 14, Jan 20, Feb 19
[Workshop (attend only 1 session)]: Nov 27, Dec 18, Jan 29, Feb 26, Mar 26, Apr 30
[Practical training (attend only 1 session)] To be confirmed (June - July 2022)
Venue: (Workshop & Practical Training) The Chinese University of Hong Kong
Target participants: Registered speech therapists in Hong Kong
Language: Cantonese / English
Registration Fee: Free of charge (Deposit HKD 500; to be fully refunded to those who complete the whole course)
Note: After completing the whole training, you are eligible for a completion certificate and 4.5 CPD-ST points accredited by the HKIST.
Please direct your enquiries to:
Miss Evelyn Lau (The Chinese University of Hong Kong)
Telephone: 3943 0851 / WhatsApp: 6825 8138