Event Information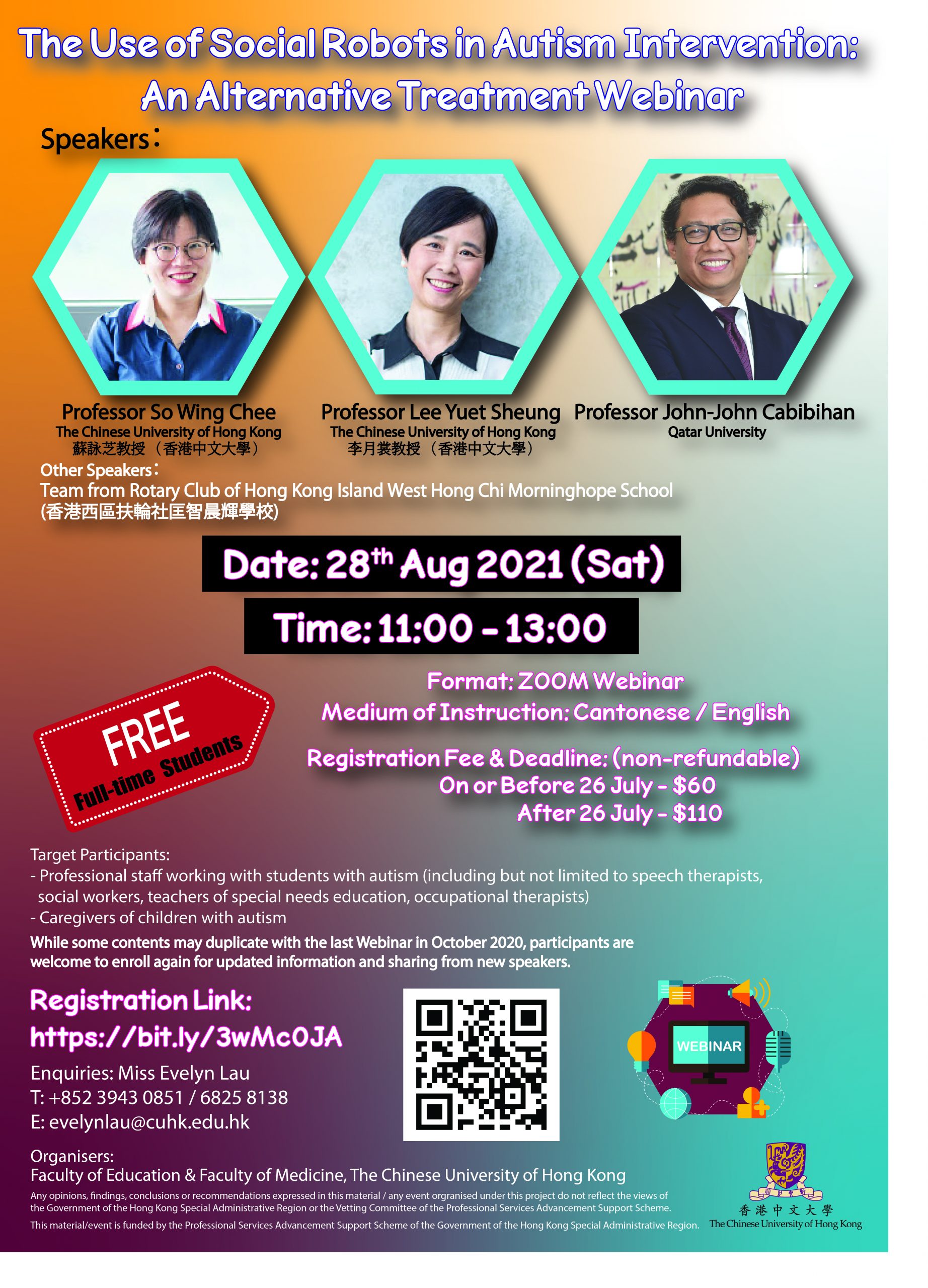 Intervention for Autism: Alternative Therapy with Social Robots
Webinar (2nd Run)
The Speech Therapy Department under The Department of Otorhinolaryngology-Head and Neck Surgery, Faculty of Medicine and CUHK College of Education will hold an [Autism Intervention: Alternative Treatment with Social Robot] on August 28. Speakers include Professor So Wing Chee, Professor Lee Yuet Sheung, Professor John-John Cabibihan and the Rotary Club of HK Island West Hong Chi Morninghope School. They will explain the communication barriers of children with autism and share the application of social robots. The details of the activities are as follows:
Organizer:
School of Education and School of Medicine (The Chinese University of Hong Kong)
Mode: ZOOM
Target participants:
People whose work is related to autistic children (including but not limited to speech therapists, social workers, special education teachers, occupational therapists)
Carers of children with autism
Language: Cantonese / English
Date: Saturday, 28 August 2021
Remarks: Part of the content of this seminar might coincide with the seminar held in October 2020, but participants are welcome to register again for the latest information and to learn more from the sharing of new speakers.
Registration Fee & Deadline: (non-refundable)
On or Before 26 July, 2021 – $60 [Early Bird Period Extended]
After 26 July 2021 – $110
Full-time Student – Free (Student Card is required for verification)
Click on the following link to register:
https://cloud.itsc.cuhk.edu.hk/webform/view.php?id=13368356
Please direct your enquiries to:
Miss Evelyn Lau (The Chinese University of Hong Kong)
Email: evelynlau@cuhk.edu.hk
Telephone: 3943 0851 / WhatsApp: 6825 8138